About Us
More than 20 years after they first got together, this motley crew of a pharmacist, accountant, Automobile Engineer, sound engineer and music producer have kept fans' heads banging to their pure passion for rock music.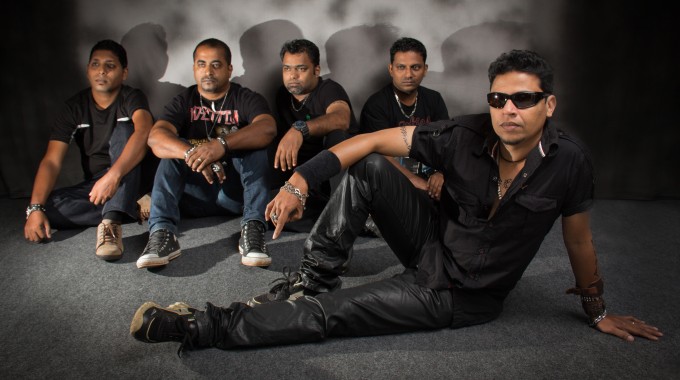 Even though they are known for their renditions of classic rock favorites, the band's repertoire ranges from country-rock to classic, progressive, funk and metal. Their harmonious blend has led to a form of music revolving around dense rhythms, soaring guitar solos and emotional lyrics liberally garnished with metal and catchy riffs.
Bad-Blood, the band has survived through the years on a staple diet of classic rock and metal, naming artists including Sting, Iron Maiden, Scorpions, Van Halen, Toto, Indus Creed and Kirby Krackle among their varied influences. A lot of youngsters, especially college students, still love a good head-bang and mosh- pits are known to erupt at campus concerts. It's a given then, that the young rock lovers will soon be screaming for their favorite songs. Bad Blood loves treating its fans to music they want to hear, The Band has a classic touch influnced from Police to Led Zeppelin, Dokken to Deep Purple, Ozzy Osbourne, Rush, Dream Theatre, Whitesnake and even Creed and Nickelback.
It's odd to think that the lead vocalist, letting out shrieks and growls that make your hair stand on end with an oncoming adrenaline rush, is by day a pharmacist. Blasio Pinto is the courteous healthcare professional who is as passionate about his job as he is about rock music. The other band members are equally devoted to their primary professions. Nixon Soares is an Automobile Engineer, but once he slings his lead guitar across his shoulder, the gets the audience awe-struck. Accounts keeps Anthony Fernandes busy most of the time, but work is forgotten when he's at practice. Recognized as one of Goa's best bass players, his fills are inventive and always tight, backed strongly by Bad Blood's time keeper. Aurville Rodrigues is a sound engineer by profession, and his technical knowledge is as important as his drumming in helping the band sound exactly the way it wants to – on stage as well as in the studio. Finally, Frazer Andrew Pacheco who plays the keyboards doubles up as a music producer.
Over the years, they have enthralled fans at major gigs including five consecutive years at 'Happenings' in Farmaguddi, the Sea Food Festival, the Kingfisher Festival, Arlem Festival, Battle of the Bands, 5 years of Rock In Goa & Guitar Gods Of Goa and a host of shows across Goa, and in Mumbai, Pune, Delhi and Bangalore. They have also opened for top Indian bands like Parikrama and 13AD. The Band is also know for their soul – filled unplugged acts
Currently, Bad Blood has released their new music video of their original "Tomorrow's Yesterday" and working on releasing a new album of their originals…