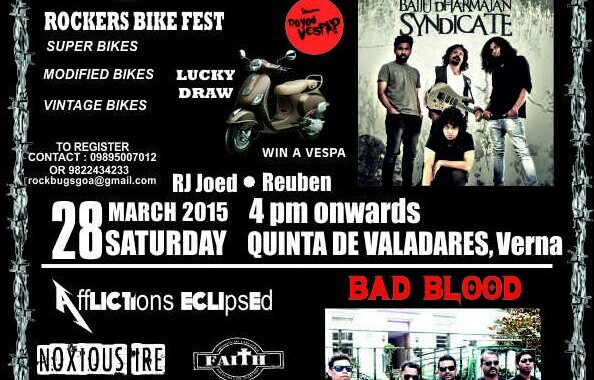 Rockbugs Goa a popular name among the rockers in Goa is organizing "Rock In Goa" V th Edition on 28th March 2015 at Quinta De Valadares, Gavin's Verna Goa.
After an overwhelming response last year, this year too there is going to be a superbike exhibition, Bikers have always been associated with Rock music and "Rock In Goa" wishes to get the rock culture back in Goa by having this perfect blend.
The exhibition will be called "Rockers Bike Fest" and the categories will include Vintage bikes, Modified bikes and Superbikes. Its going to be a chill-out zone for the bikers where they can meet their friends and also fellow bikers, share their views and experiences while enjoying the music and amidst all wining exciting prizes for their bikes!!!!
BAD BLOOD the host band will be releasing their first video "Tomorrow's Yesterday" at the concert and also will be shooting a live video for their second song "Should I" at the event, it is  going to be the first of its kind in Goa!!! "We want the crowd to come dressed to the occasion is what the band member said when we asked him details about the video".
Goa's top 8 Rock Bands will be performing on a massive stage and you will also have an opportunity to watch "Bad Blood" live in performance, Bad Blood being one of the oldest Rock Bands in Goa who have been rocking our hearts for many years other bands will include Paul Challakal, Noxious Ire, TNT, Afflictions Eclipsed and among the rest there is also going to be a special performance by a Konkani Rock Band called "Kantem Ani Fulam"
The jewel in the crown will be "Baiju Dharamajan Syndicate"- The God of Small strings he has redefined the concept of live performance with their tightly rehearsed and slickly produced concerts, You have to be truly at this concert to enjoy live performances along with the Bikers
For registration of your bikes you may please call 09895007012/9822434233